We're About To Make This Year End Special For You
So many delectable ways to usher in 2018 with gusto!
10, 9, 8, 7, 6, 5, 4, 3, 2, 1….
The minute hand on the clock vibrates with nervous anticipation. One more tick clockwise and the needle will point to midnight on the 1st of January. So silent, so still, you could hear a pin drop. Suddenly, the clock chimes audibly – 12 strikes of the gong usher us from the end of one calendar year into the next. This Sunday, Marini's on 57 invites you to celebrate this moment and usher in 2018 with a drink, a kiss, and a big cheer…
Happy New Year!  
Raise your glasses! Dress to the nines in black and white, watch fireworks ignite the Kuala Lumpur skyline, and form wonderful resolutions with your friends and family. Whether you're planning on a multi-course gourmet meal or a night out at a party downtown, Marini's has got you covered.
When Refined Flavours Engulf You In Opulence
So many delightful ways to toast to a bright New Year ahead, from the highest rooftop bar in Kuala Lumpur. One rarely goes out for New Year's Eve without their trusted coterie of fun-loving friends, so don't forget to bring yours! If you're going to last past midnight (hint — there's going to be more than 1 celebration in store for you), make sure you've got enough energy to stay on your feet.

Marini's on 57's haute-cuisine 13 course New Year's Eve menu has a festive selection of aperitivos (meal opener), antipastos (heavier starter), primo (first course), secondo (second course), contorno (side dish), insalata (salads), dolce (desserts) and digestivo (after dessert drink) to satisfy your appetite. There always is something for everyone at Marini's On 57 and Marble 8 (see menus below).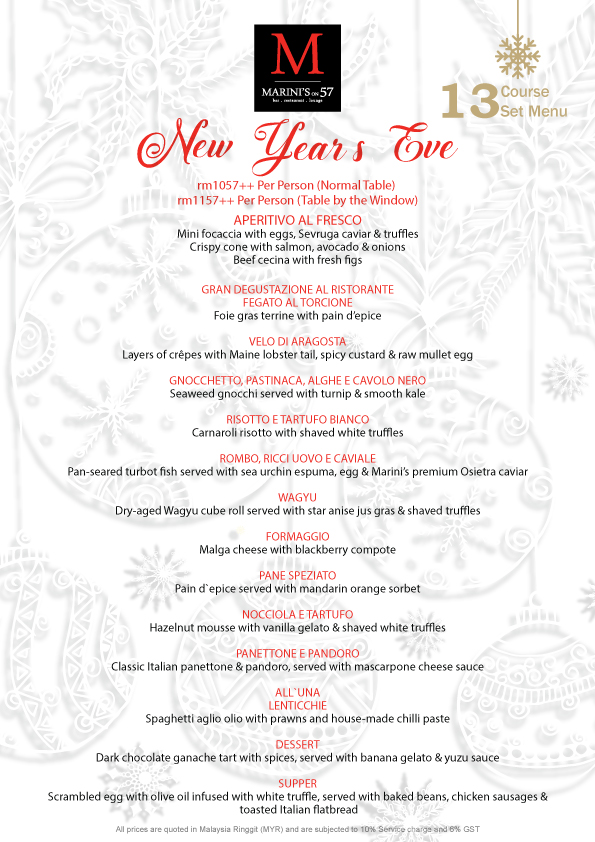 Whether you're going for a big family reunion, an intimate evening for two, or a friendly get-together of your closest confidants, add more excitement to 2018 at our elegant venue! It's not everyday you can savour 13 courses of ambrosia to usher in your New Year resolutions.
And if that does not get you drooling with anticipation… check this out….
Midnight At Marini's: Party With DJ Ken Fan
After getting your fill of New Year's Eve dishes, dance to the beats of the award-winning DJ Ken Fan's house music at midnight! Having delighted our guests with his surprise performance last year, the Brit-born Chinese DJ returns again to outdo himself, bringing a whole new repertoire of house music.  
Back in 1999, DJ Ken was resident DJ at Miss Moneypenny's in his homeland. By 2006, he has toured international circuit parties for a decade and emerged as the Best Breakthrough DJ in House Music Awards.
In 2009, DJ Ken moved to Ibiza and became famous as showstopper at Café Del Mar Ibiza. Why travel all the way to Ibiza to hear DJ Ken spin his chart-topping beats when you can dance live in front of his booth at Marini's on 57 just days from now? Don't miss out!
Experience the best fireworks view and awesome music in the heart of Kuala Lumpur from 9pm onwards on Sunday 31st December 2017 with DJ Ken Fan. Dresscode is "All That Glitters" and cover charge is 150 RM per person Nett. Call +603 2386 6030 for reservations.
Get ready to bounce off the walls as Ken Fan drops his booming Ibiza beats! Let's carouse, clink glasses, countdown to the New Year, and embrace what 2018 has to offer.
Felice Anno Nuovo!
As you countdown to 2018, have you formed any New Year resolutions? We'd love to hear from you below!