The Marini's Group: Your Extravagant Destination For A Sparkling Festive Celebration
The Marini's Group: Your Extravagant Destination For A Sparkling Festive Celebration
When it comes to the joyous day of giving, nothing tops that feel-good festive vibe buzzing in harmony along with the little luxurious event that's been planned in the comfort of one's home.
Getting into the merrymaking mood, your dwelling place would be adorned in beautiful decorations with a humongous Christmas tree sitting gracefully at the center of the hall, welcoming friends and families that will be noshing down only the best cuts of meats, and glasses clinking away with sparkling wines and champagnes. Some seize the holiday season by bringing it up a notch by hosting extravagant parties at grandiose venues, while others choose to nest in the comfort of their own homes.
To Sparkle Is To Shine
Celebrating in style and splendour comes naturally where your invited guests will be treated to luxury gifts enveloped in Swarovski crystals and the most expensive mince pies topped with authentic ruby stones and 24k gold leaves.
Well-known celebrities take it a level further during the holiday season by ultimately making it worthwhile in the most outrageous and luxurious way. Giving event planners a run for their money, most stars demand that their celebrative occasion has to be extraordinarily impressive to be the talk of the town and the social media for months, long after the party.
A Lavish Christmas Affair By The Kardashians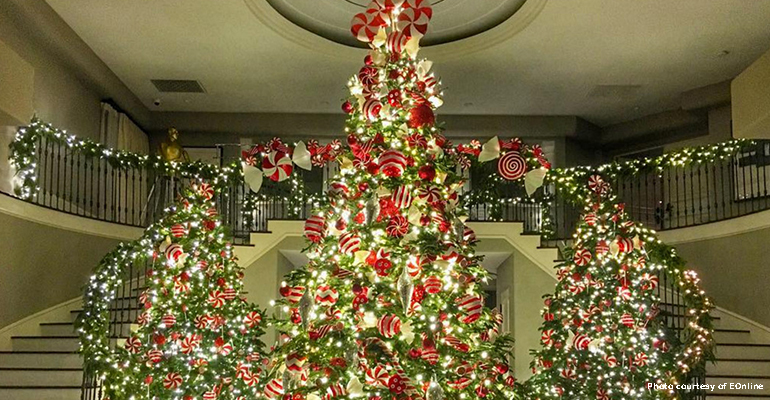 The Kardashian-Jenner crew threw an over the top spectacular Christmas Eve party in the comfort of Kris Jenner's home, where the holiday affair is annually held. Complete with decorations absolutely far-fetched, carefully designed by famous floral designer Jeff Leatham who did a miraculous job transforming the home into something magical. The living halls were decked out with large ornaments shaped in candy canes on their luxurious towering Christmas trees, leaving all A-list guests in awe.
Bieber Splurges On A Private Jet For Christmas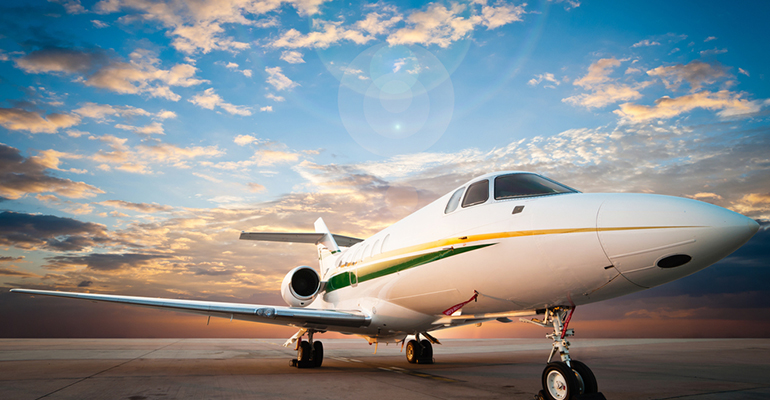 Every now and then, it is nice to hop onto private jets, helis and luxury yachts for a secret excursion out in the open. Nonetheless, young celebrities like Justin Bieber had set himself an unbelievable goal – purchasing a private jet costing around $60 million during Christmas 2014.
The luxury jet defines the silk-stocking lifestyle that he lives in, complete with a spacious lounge of dark yet lustrous interiors and furnished with white leather seats spewing out scents of newness. Being one of the youngest celebrities in present day, he flaunted his wealthy lifestyle by celebrating the multimillion dollar purchase on social media, which he captioned "New jet for Christmas, and she's beautiful."
Old-Fashioned Wintery Christmas
Some celebrities prefer to keep to tradition like Beyonce and Jay Z, where they embraced the idea of travelling to Iceland to ring in the holiday season. Cold, snowy weather is often depicted as the ideal Christmas scene, so most holidaymakers may desire  hitting the slopes this winter, instead of breaking free from the icy breeze to bask in the balmy weather.
Nonetheless, a holiday season in warmer climates can also provide an abundance of glamorous celebrative ideas that can truly epitomise the jolly season without the usual snow. Celebrating Christmas in the city can be filled with magnificence and extravagance on par with a lavish lifestyle.
This Holiday Season, Take A Break Out Of The Norm
With The Marini's Group strong and successful foundation by Cav. Modesto Marini, the rising entrepreneur from Italy established three exclusive venues in Kuala Lumpur that cater to elite patrons, for any occasion all year round – the lavish contemporary Italian restaurant Marini's on 57, KL's most premium steakhouse Marble 8 and the classic M Marini Caffè.
Read about the insights of the events worth living at Marini's on 57, one of the most highly sought-after locales in Kuala Lumpur.
This festive season, immerse yourself in holiday extravagance like a true celebrity by having a Christmas feast that is exuding with dining finesse in one of The Marini's Group luxe destinations.
Marini's On 57: Glamorous Festivity Beyond The Vast Skies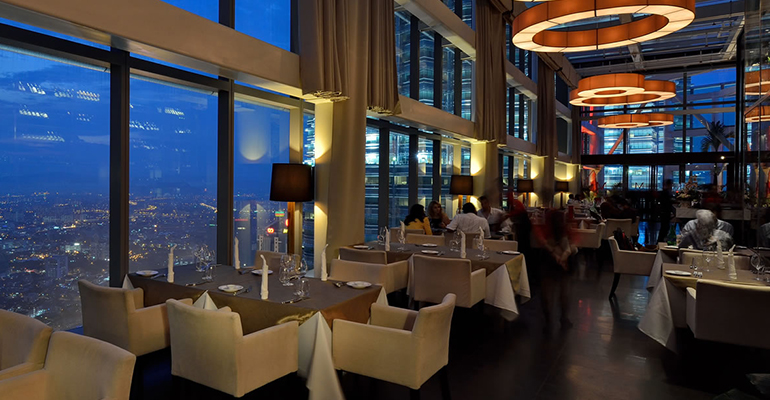 A contemporary Italian restaurant nestled impeccably on the 57th floor of the Petronas Towers, its opulence never fails to astonish guests as they can experience Marini's on 57 distinctive zones – the elegant lounge, the exuberant rooftop bar and the sophisticated Italian restaurant. Each carries their own unique elements yet they have one aspect in common – it keeps you dazed in the admirable panoramic views of the KL skyline.
In conjunction with the holiday season, Marini's on 57 features three festive menus comprising of authentic Italian dishes for Christmas Eve, Christmas Day and New Year's Eve. The impressive range of dainties, scrumptious mains and desserts so divine, that it will surely compel you to leave your plate squeaky clean. Peruse the list of indulging dishes for your Christmas dinner in KL.

Marini's on 57 is proud to provide an opulent gift that will enable joy to your nearest and dearest. This Christmas, generously surprise them with exclusive Marini's on 57 gift vouchers, pampering them with a delightful discovery of stylish, authentic Italian cuisine.
Alternatively, if you aim to keep your guests impressed with a holiday bash at Marini's on 57, deposit payments are available upon function bookings, make a date with us while seats are still available. Purchase your gift vouchers and deposit payments here.
Marble 8: Savour The Indulgences Of A Succulent Feast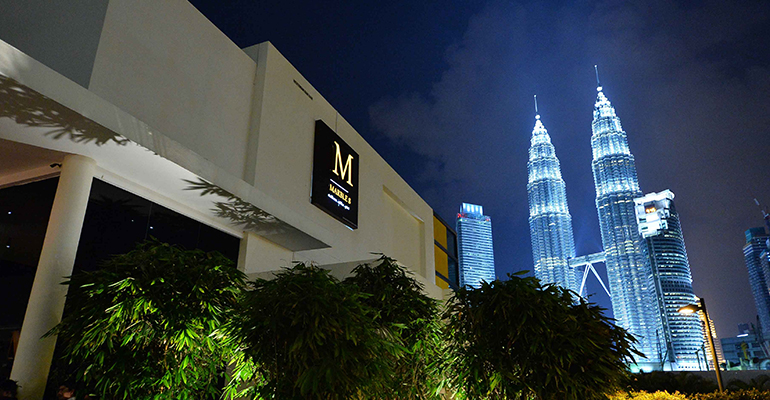 A contemporary steakhouse for true meat lovers, Marble 8 is Malaysia's first choice of destination for carefully handpicked beef slabs. Sliced and seared to perfection, all dishes are expertly presented with distinctively rich flavours and textures.
Marble 8 certainly impacts the crowd with its multifaceted gourmet scene of fine dining flair, a vivacious music bar and a posh lounge within its vicinity. What's more impressive than savouring a delicious Wagyu steak at a dramatic garden view overlooking the glittering towers of Kuala Lumpur?
Tingle your palate and satisfy any cravings for meat with Marble 8's menu of tantalising dishes this festive season. Make your journey over to the festive menu page to discover the speciality dishes for your Christmas dinner in KL.

M Marini Caffè: Classy Seasonal Treats For Timeless Moments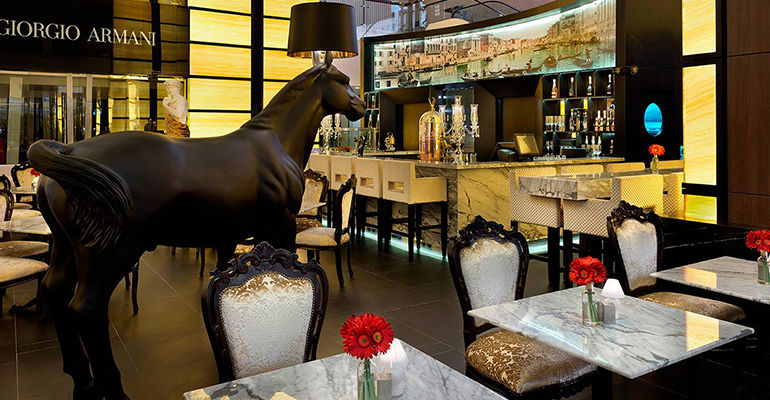 With international high fashion brands like Cartier and Armani as neighbours, M Marini Caffè is undoubtedly a one-stop destination for avid shopaholics. Its luxurious space within Suria KLCC elucidates the classic Italian charms of European furnishing embodied with elements of the grandiose Renaissance era. A perfect locale for high-tea elegance or to dine in with their unrivalled selection of luxury dainties, appetising mains, sinful desserts and exclusive champagnes.
For a merrymaking occasion in this time of the year, M Marini Caffè tops the list of cafes as the perfect locale for bona fide seasonal treats. Explore our mouth-watering decadent festive menus and bring this year's holiday season to the next level by visiting us.

NYE Party In The Sky: Countdown With Ecstatic Sounds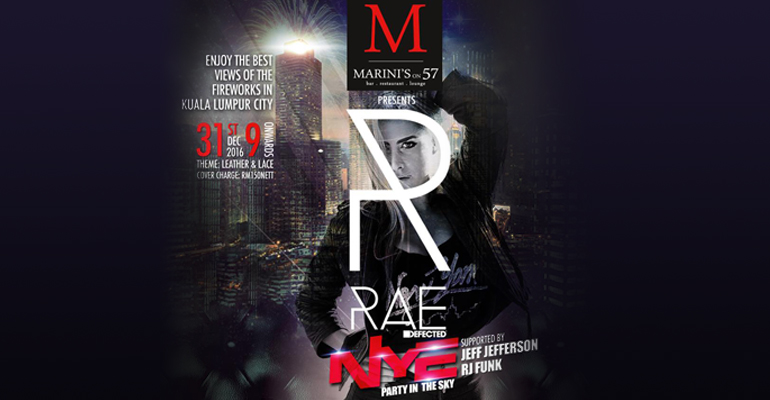 Mark the start of 2017 with a bang at the highest rooftop bar, Marini's on 57, by partying in the sky with the best talent in town, DJ Rae. Rae is the definition of the ultimate package in the new-age entertainment; a unique combination of singer, songwriter, remixer and producer that ramps up her reputation in the music industry.
Be prepared for an energetic evening as DJ Rae will hit high notes in merge of her rapturous electro Defected tracks for this New Year's Eve. Party and dance to the vibrant music at Marini's on 57 while being surrounded by a show of magnificent fireworks at the pinnacle of city heights.
Event: NYE Party In The Sky
Date: Saturday, 31st December
Time: 9:00 pm onwards
Cover charge: RM150 nett
Theme: Leather & Lace