The Botanical Benefits Of A Healthy Cocktail
There's an age-old argument that you either have style or substance, but this is not necessarily true. The latest luxury cocktail offerings at Marini's on 57 promises just the opposite, matching delectably tasty cocktails with some of the most beautiful artistic vessels you will ever see. This line of luxury cocktails offers a unique blend of botanical and aromatic cocktails, served in the most interesting bespoke vessels, created by London based design company Inkorporate, creators of some of the finest industrial products from designing, developing and manufacturing drink and bar equipment, among other things, for leading drink brands.
What Are Botanicals?
Botanicals have always been used throughout human history as health remedies for common ailments. Botanicals incorporate the use of natural herbs which impart certain healing benefits to our health in general, and have been used by countless cultures around the world, from the herbal benefits of ginseng in the east, to the use of calendula for skin ailments from the time of the Greeks. Mixologists today are able to show their creative flair by creating concoctions that highlights some of the benefits of these ingredients, not only through the use of great healthy ingredients, but to also make the best of the unique flavours they impart.
Where Can You Find Botanical Cocktails In Kuala Lumpur?
At the Marini's on 57 Lounge, four cocktails were specially crafted to meet these offerings which plays with the palate giving an interesting twist to what you would expect, setting these creations apart from the drinks that you would normally find, blending herbaceous elements with a touch of the apothecary. Ingredients used such as watercress syrup, shiitake mushrooms and even the opulent truffle oil makes an appearance on its ingredient list. Have we piqued your interest yet?

Do You Need A Hippocratic Remedy?
This drink lends its name to the most famous doctors in the history of humanity, the Greek Hippocrates. Famous today for the Hippocratic oath, his main tenet in life is to first do no harm. The ingredients used have been said to have health benefits, from the avocado, which is famous for its ability to lower cholesterol, as well as watercress which has been said to help prevent certain types of cancer.
This aptly named Hippocratic Remedy as a cocktail makes a nice sipper, served in a small jar and is perfect if you are looking for a medium bodied creamy cocktail. The avocado adds a nice subtle creamy flavour, with the watercress syrup giving it a mild but sharp edge.

A Pump of Antibiotics Into Your System
Another interesting concoction named after an age-old remedy is the Antibiotic. Antibiotics have been used from ancient times as a way to get rid of microorganisms in the body, where sometimes you just need a little bit more of a push when your body can't recover by itself. An old Scottish remedy for increasing your health is by using, you guessed it, whisky.
In the past, mothers would use whisky as a form of soothing for teething children, which is believed to calm them to sleep. They would dip their thumbs in whisky and let their child suckle on their finger to relax them (although we do not recommend this!) to help them sleep, although we are sure it would apply more to adults. Originally inspired by the age-old remedy of whiskey being a health tonic, this drink is made even more luxurious with the unexpected use of truffle oil, adding a nice umami touch.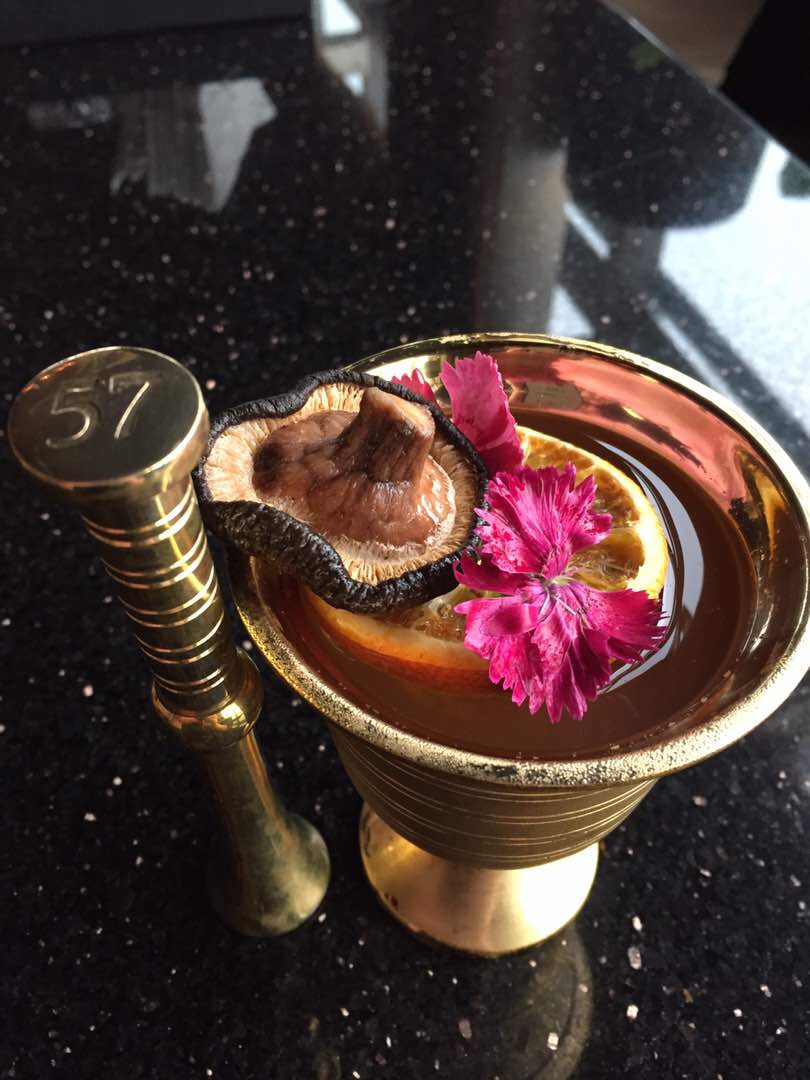 The French Approach
The French are willing to die for love, and this is true with their love of everything opulent. From the rich food to the high-quality ingredients, they produce some of the best cuisine in the world. Cognac VSOP comes from the region of Cognac, France, and is famous for being high in antioxidants and is said to be good for the heart. This is why traditionally cognac has been consumed for generations as a health tonic to enhance the lifestyles of the French. Shiitake has also been used in traditional Chinese medicine as an immunity booster, which lowers blood cholesterol and is claimed to have anti-aging properties.
Paris & Fungi gives a nod to the history of the Cognac VSOP being the height of Parisienne sophistication, and mushrooms being a integral ingredient in French cuisine, with a specifically unique Asian touch using the shiitake, known for its complex and bold aroma. The parsley and honey syrups add a nice blend of pungent and saccharine sweetness.
Living The Crazy Rich Asian Life
If there is one thing that speaks of luxury, is bubbly and gold. You would think that the consumption of gold is new thing, but it isn't. Noblemen in the Middle Ages would add gold to their dishes to display their wealth as a symbol of status. Champagne and an assortment of sparkling wines have traditionally been associated with celebrations and togetherness.
With the Royal Treat, sherry is used a main component and has been used as an age old remedy, with many people around the world having a small glass of sherry to end their long day. Sherry has been proven to have anti-inflammatory benefits and to also lower cholesterol levels.
The cocktail is served in a luxurious mini decanter complete with a crown stopper, with a side of gold flake rimmed champagne flute. The mix of dry sherry adds a nice depth that contrasts the effervescent sparkling wine, made sweetened and soured by strawberries. A drink definitely worthy of any crazy rich Asian.

Healthy Fun, It Can Be Done
Many people fear that consuming alcohol would be bad for your health, but tradition dictates that this is not necessarily so. Throughout human history we have had many alcoholic beverages that start out as traditional remedies in enhancing our health and were sold as tonics. With the rise of botanical cocktails making an appearance on menus, in addition to the creativity of flair and flavour, we can't wait to see what this new world of interesting cocktail culture will bring.
If there is one reason to taste latest offerings by Marini's on 57 is that it offers alcoholic beverages with some of the best views of the city, and is perfect for a get together from business or pleasure or even a romantic night. These cocktails are prices between RM48++ and RM68++ and will be available all month long so try to get a taste before it's gone.


Did you enjoy reading this article? Visit our blog homepage for more!